Introduction
The Australian Centre for Quantum-Atom Optics (ACQAO) combines pre-eminent Australian theoretical and experimental research groups in quantum and atom optics. Our aim is to create a powerful network to advance the rapidly developing field of Quantum-Atom Optics.
We are exploiting the quantum nature of multiple particle quantum states of atoms and photons, including entangled light and Bose-Einstein condensates (BEC). The Centre focuses on fundamental research, but our long term goal is to underpin and develop the next generation quantum technology.
ACQAO has strong international links with our collaborating partner institutions in New Zealand (University of Auckland, and the University of Otago in Dunedin) as well as in Europe (Imperial College London, University of Hannover, University of Erlangen, Vrije Universiteit Amsterdam, and the Laboratoire Kastler-Brossel in Paris). We have also joined with the Institut d'Optique in Orsay, France and the University of Hannover, Germany to hold a tripartite series of quantum atom-optics workshops in our three countries.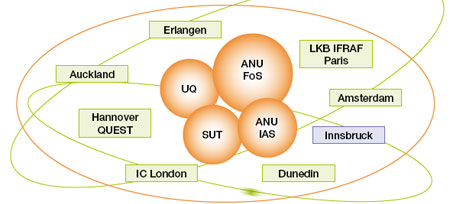 The Centre has been made possible by generous funding for 2003-7 from the Australian Research Council, ACT Government, Queensland State Government, as well as cash and in-kind contributions from the university nodes of the Centre at The Australian National University (ANU), Swinburne University of Technology (SUT) and The University of Queensland (UQ).
Annual Reports
Governance
Organisational chart
Centre Research Director


Hans Bachor

Advisory Board

International Scientific Advisory Board:

Prof. Alain Aspect, Institut, d 'Optique, Palaiseau,
France
Prof. Keith Burnett, Vice-Chancellor, University of
Sheffield, Sheffield, UK
Prof. William Phillips, Nobel laureate, National Institute
of Standards and Technology (NIST), Maryland, USA.

Prof. Eugene Polzik, Niels Bohr Institute,
Copenhagen, Denmark.

National Advisory Board:

Prof. Lawrence Cram, Deputy Vice-Chancellor,
Australian National University.

Dr Mark Dransfield, Chief Geophysicist,
Fugro Airborne Surveys Pty Ltd.

Dr Steven Duvall, Technology Consultant.

Dr Peter Fisk, Acting Chief Executive and Chief
Metrologist, National Measurement Institute (NMI),
Department of Innovation, Industry, Science
and Research.

Dr Warren Marwood, Deputy Chief Defence Scientist
(Information and Weapons Systems), Defence
Science Technology Organisation (DSTO).

Dr Bruce Whan, Director, Swinburne Knowledge,
Swinburne University of Technology.



Centre Deputy Director
Ken Baldwin

Cheif Operations Officer

Damien Hughes

Executive Committee

Hans
Bachor

Ken
Baldwin

Joel
Corney

Peter
Drummond

Peter
Hannaford

Yuri
Kivshar

ACQAO Nodes

ANU Faculties
Node Director:
Hans Bachor

ANU IAS
Node Director:
Ken Baldwin

SUT
Node Director:
Peter Hannaford

UQ
Node Director:
Joel Corney

Chief Investigators:
Hans Bachor
Ping Koy Lam
John Close
Joe Hope
Craig Savage
Ben Buchler
Nicholas Robins

Chief Investigators:
Ken Baldwin
Yuri Kivshar
Elena Ostrovskaya
Andrew Truscott

Chief Investigators:
Bryan Dalton
Peter Hannaford
Russell McLean
Wayne Rowlands
Andrei Sidorv
Peter Drummond
Margaret Reid
Chris Vale
Brenton Hall

Chief Investigators:
Joel Corney
Matthew Davis
Karen Kheruntsyan
Murray Olsen

Administration Officer:
Damien Hughes

Administration Officer:
Kathy Hicks

Administration Officer:
Tatiana Tchernova

Node Operations Manager:
Stephanie Golding
While the Research Director, Hans-A. Bachor, is responsible for the overall science direction and performance, the Chief Operations Officer, Damien Hughes, is responsible for the financial administration and all operational aspects. The fundamental decisions in the Centre are determined by all Chief Investigators together.
This is achieved in bi-annual CI meetings (Coolum 6/2004, Canberra 12/2004). The ongoing administration is supervised by the Executive Committee, which meets four times a year. Node Directors are responsible for the continuous operation of the four nodes. Regular science meetings are held fortnightly within the nodes and we hold, given by demand, scientific discussions, brainstorming sessions and discussions which bring together members of the Centre from all locations (Canberra 3/2004, Coolum 6/2004, Kioloa 12/2004).
The daily administrative work is carried out by the COO and the administrative assistants at SUT, UQ and the IAS. The financial status and science progress are reported to the COO and Research Director on a quarterly basis via the Node Directors.
Centre Management Meetings
CI meeting
All CIs & COO
Bi-annual

6/04 Coolum
12/04 Canberra
4/05 Melbourne
12/05 Canberra
5/06 Brisbane
12/06 Brisbane
05/07 Caloundra
12/07 Wollongong
05/08 Canberra
11/08 Lorne
6/09 Canberra
12/09 Adelaide

Executive Committee
Res Dir. & COO Node Directors
quarterly
1/04 Canberra
4/04 Canberra
10/04 Melbourne
4/05 Video
3/06 Video
1/08 Canberra
4/08 Canberra
6/08 Canberra
9/08 Canberra
03/09 Video
07/09 Video
09/09 Video
11/09 Video
Advisory Board
International & national members
annually
12/04 Canberra
13/02/2006
12/07 Wollongong
05/08 Canberra
05/09 Int. Video
07/09 Canberra
International Workshop
Centre & partners, other AUS groups
Bi-annual
02/03 Caloundra
12/04 Kioloa
02/05 Les Houches
11/05 Queenstown
02/06 Canberra & Kioloa
12/06 Brisbane
05/07 caloundra
12/07 Wollongong
09/08 Beijing 11/08 Lorne
02/09 Les Houches
12/09 Adelaide
Individual Project & group
Staff & students, visitors
fortnightly
Across the Nodes
IP committee
Node directors, Universities
annually
4/06 phone conference
05/08 Canberra
We are fortunate to have an advisory board of exquisite expertise. Our international science advisors are world leaders in the field and highly distinguished scientists, including a Nobel laureate Professor William Phillips. They have visited us twice and provide us with detailed scientific advice for all aspects of the Centre. Our national board members provide expertise in liaising with the Australian public and potential end-users of our research.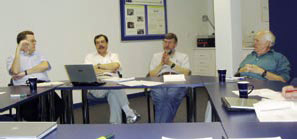 Prof Keith Burnett, Prof Alain Aspect, Prof William Phillips, Prof David Pegg
Funding
Total ACQAO Income in 2006: $4,528,692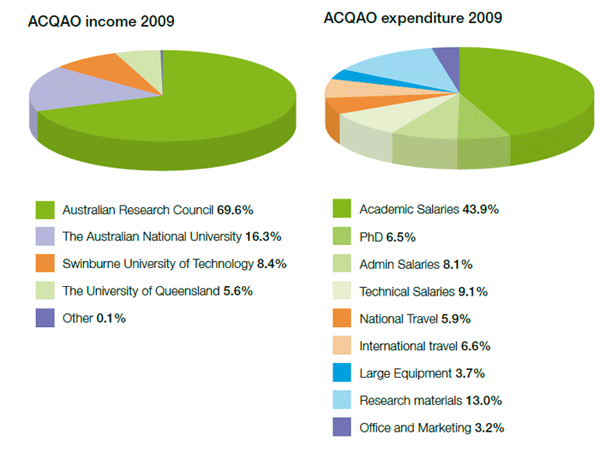 Note : The Queensland State Government funding for 2003, 2004, 2005 was forwarded in one total payment of $450,000 during the year 2005.
Performance