ACQAO is a proud supporter of 'Physics for our Future'
Quantum and Atom Optics forms the foundation of future technologies. In a similar way that optics and electronics shaped the technologies we have today, we now see quantum concepts starting to influence and improve communication, sensing, navigation and computing devices all within a few decades.
ACQAO combines the leading Australian theoretical and experimental groups in this field, located at ANU, UQ and SUT.
We started in 2003 with a set of ambitious research goals, and achieved all of them. We are training groups of outstanding young scientists - who will take our research to the next level and across the world.
ACQAO is one of the first to link the diverse concepts from optics, photonics, ultracold atoms and coherent matter waves into new scientific direction. This has set the foundation for the development of new instruments for the future that will operate at the fundamental limits of sensitivity. At the same time it allows us to create new ways of using the uniqueness of quantum systems.
Find out about our research achievements, our enthusiastic staff, and our publications. Our latest report provides you with full details of our current activities.
Quantum-atom optics research at ACQAO comprises six experimental projects directed and supported by a central theory core. For a detailed description of the research activities in the Centre, please click on the project titles in the diagram below.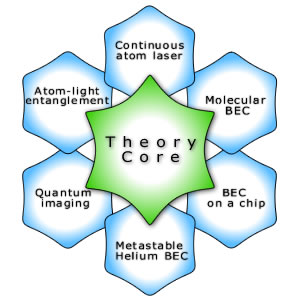 ACQAO is a multiuniversity collaboration involving the Australian National University, Swinburne University of Technology and University of Queensland.